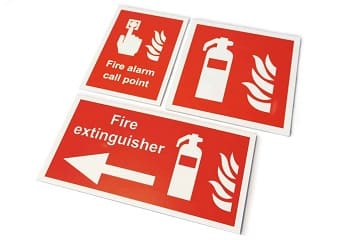 Fire equipment signs show clear marking of the location of any non-automatic fire-fighting equipment, fire alarms, firewalls and other related objects that are usually used to facilitate evacuation and the extinguishing of the fire. Public spaces, and especially work premises, are required to have fire safety signs to comply with fire safety legislation. The same legislation also states that everyone at the workplace must be aware of the location of fire alarms and equipment.
Fire equipment signs have to be easy to understand, red with white text or an easily-recognisable pictogram. When needed, the sign might be combined with a red rectangle below, which explains the meaning of the sign. They must be mounted in easily visible places for all to see clearly, but your premises might have individual requirements determined by the individual risk assessment.
In the catalogue below, you can find various fire equipment signs to order. They include fire action signs, fire exit signs and fire equipment signs, fire door signs, fire assembly signs, fire extinguisher signs, fire instruction signs and more. Also, you can use our sign builder tool to create your own sign to suit your needs.
Having trouble using the sign building tool? See the user manual here!