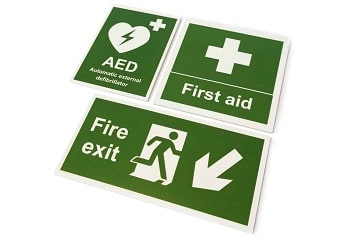 These are an emergency escape or first-aid signs, showing the actions that need to take in certain situations. They give information about escape routes, emergency exits, first-aid or rescue facilities, emergency showers and the like. They include exit signs, provision of exit signs and supplementary information signs. It is important to display these in a prominent place so your business meets fire and health and safety regulations and ensures that employers, visitors and the general public are kept from harm.
Safe condition signs are required to be rectangular and have a white pictogram or text on a green background.

These signs are UV printed on 3mm thick plastic.
Having trouble using the sign building tool? See the user manual here!