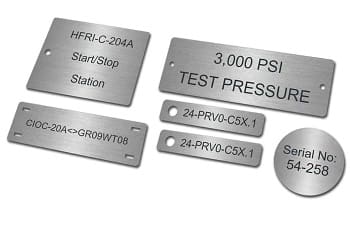 An incredibly durable identification solution for highly caustic areas. Stainless Steel Tags are ultra durable, resistant to prolonged exposure to extreme high or low temperatures and UV conditions, they play a vital role as valve tags, asset tags, cable tags, labelling pipes, equipment tagging etc. It is an optimum choice for heavy industrial, marine and chemical environments.
High detail laser engraving makes the identification codes easier to read and long lasting. These tags can be custom engraved with any series or sequence of data that your business needs.
Having trouble using the sign building tool? See the user manual here!