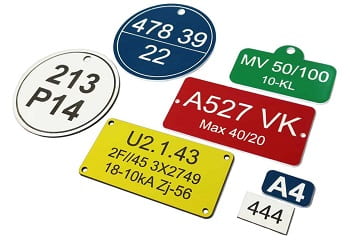 Plastic engraved tags used in industrial environments for technical installations. These are simple tags with text or number codes, but without images or cutouts. A number of popular colors can be selected. The different additional items for hanging these tags can be ordered too.
These signs are made from top-quality, two-layered plastic with either a glossy or matte finish, depending on your chosen colour. The top layer remains the main colour, while the bottom one is seen only when your text, shape or image is engraved. This production method is a good choice for technical signs that will be used in harsh environments, as the durability of the sign is maximised. The downside of this production method is that only a combination of two colours is available, but this ensures that the signs will remain readable even if the sign colour fades after years of use in direct sunlight.
You will see each of the available combinations, as well as possible accessories, in the Sign Builder Tool when you start designing your sign.