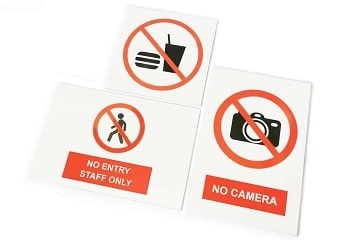 Prohibition signs are used to show the rules and policies of the property or area in order to prevent various activities in certain situations. They are often used to identify actions that either poses a potential risk to health and safety or are forbidden by the rules and regulations of the area.
Typical prohibition signs are round with a bold red circle outline. They also have a red diagonal line from the top left to the bottom right, that crosses the black image that symbolises the prohibited action. For 'No' or 'Do Not' signs, there is often a related explanatory text underneath the sign.
Our prohibition signs are available in a range of sizes, legends and graphics. What is more, using our online Sign Builder Tool, you can design any other sign according to your requirements. Below you can see our most popular prohibition signs.
Having trouble using the sign building tool? See the user manual here!