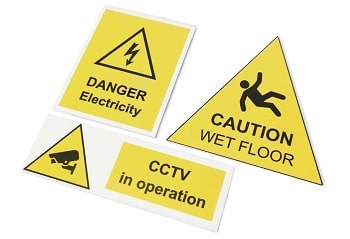 Used to reduce accidents within the workplace by making employees, as well as visitors to the area, aware of potential dangers and hazards.
These signs have a yellow background and black triangle with black text and images. Some of the signs are printed on a white background and have an additional yellow area where the meaning of the hazard is written.
Below, you can see our most popular warning signs. Each of them can be adjusted to meet your needs by using our Sign Designer Tool.
Having trouble using the sign building tool? See the user manual here!