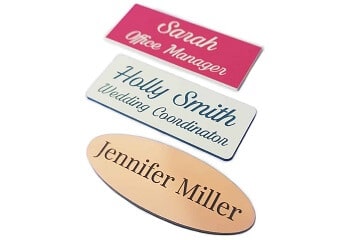 Name tags, depending on your choice, are made from top-quality, two-layer plastic with a hard, matte or glossy finish, or from birch plywood. You can create any shape you like, and add any text, company logo or image. By using the 'Repeater' function, you will be able to easily create identical custom tags with different names for several different people.
These name tags are laser cut and engraved; therefore, the text and images can only be single coloured. Wooden name tags have a dark brown colour on engraved areas; meanwhile, plastic name tags have the main colour of the top layer and the text and image colour of the bottom layer. All the possible colour combinations, as well as all other technical details, can be found in the Technical Details page below, as well as in the Sign Builder Tool.
Having trouble using the sign building tool? See the user manual here!